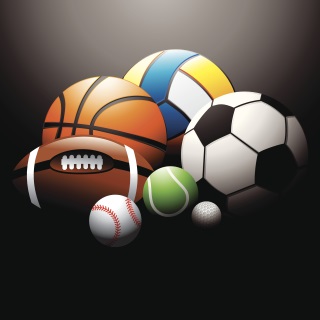 Students participating in sports are constantly pushing their bodies to the limit and are taking on a greater risk of injury than students who are not. Sports insurance for international students becomes even more critical than ever in these cases, and finding the right insurance plan for your situation is particularly important. Not every insurance policy will cover sports, and in many cases they will include or exclude coverage based on sports categories such as organized sports, extreme/adventure sports, contact sports, or recreational sports.
In this post, we will explore those main sport categories, and how international student insurance plans deal with coverage.
Organized Sports
Organized sports, as defined in insurance terms, usually include intercollegiate, interscholastic, intramural or club sport participation. If your sport requires organized practices or events, if you have a coach, or if you signed up for the sports through your school, it is most likely an organized sport. This definition does not include semi-professional and professional sports, which are usually in their own category, and in general are not covered by most international student or travel medical plans.
Coverage for organized sports is not inherent in most international student plans, and is commonly excluded from coverage. But not to worry! There are a few international student plans that do include coverage for organized sports, usually with a maximum limit per injury. The Student Secure Budget and Select levels both include coverage for up to $3,000 per injury (Budget) or $5,000 per injury (Select) for organized sports and the Student Health Advantage Standard and Platinum plans includes organized sports coverage up to $5,000 per injury.
Extreme/Adventure Sports
Extreme sports, also known as adventure sports, are activities perceived as having a high level of inherent danger. These activities often involve speed, height, a high level of physical exertion, and, in most cases, highly specialized gear. These kinds of activities are often undertaken for thrill seeking, and thus can expose the participant to abnormal risk that exceeds even that of organized sports.
Although most travel medical plans exclude coverage for organized sports, some policies will include limited coverage for extreme/adventure sports, or there may be an additional rider that can be added to the plan for an additional cost. These plans will often list the exact sports that are covered and/or those that are excluded from coverage.
For example, the Atlas Travel plan includes coverage for all extreme sports that are not excluded specifically in the policy. Excluded sports include aviation, base jumping, parachuting, parasailing, hang-gliding, sky surfing, paragliding, kite-surfing, off-road motorized vehicles, heli-skiing, white water rafting, racing, spelunking, cave diving, diving unless certified, avalanche training, rugby, hunting, running with the bulls, bobsleigh, skeleton, luge, boxing or martial arts, piloting a hot air ballooning, jousting, pentathlon, powerlifting, quad biking, speed trials, speedway, or wrestling. Any extreme sports not listed would therefore be covered the same as any other illness.
The Patriot Travel plan is an example of a plan that offers an Adventure Sports rider. Here's a summary of the terms of the rider from IMG, the insurance administrator of the Patriot Travel plan.
"The following activities are covered to the lifetime maximum amounts listed below as long as they are engaged solely for leisure, recreation, or entertainment purposes: abseiling, BMX, bobsledding, bungee jumping, canyoning, caving, hang gliding, heli-skiing, high diving, hot air ballooning, inline skating, jet skiing, jungle zip lining, kayaking, mountain biking, parachuting, paragliding, parascending, piloting a non-commercial aircraft, rappelling, rock climbing or mountaineering (ropes and guides to 4500m from ground level), scuba diving (to 50m), sky diving, snorkeling, snowboarding, snowmobiling, snow skiing, spelunking, surfing, trekking, whitewater rafting (to Class V), and wildlife safaris, and windsurfing. All such activities must be carried out in strict accordance with the rules, regulations and guidelines of the applicable Governing Body or Authority of each such activity."
There are certain sports,however, that are never covered by the Patriot Travel plan, regardless of whether or not the Adventure Sports rider is purchased. These include contact sports of any kind, racing of any kind, any rodeo activity, BASE jumping, kiteboarding, mountaineering or climbing or trekking above elevation 4500 meters above ground level or without proper ropes or guides; luge, motocross, Moto-X, ski jumping, sub-aquatic activities below 50 meters, whitewater rafting exceeding Class V difficulty, and/or adventure sports activity not expressly covered.
Contact Sports
A contact sport is defined as a sport in which players come into physical contact with each other as part of normal play. Hockey, soccer, football, and martial arts are just a few examples of contact sports. Similar to extreme sports, contact sports increase your risk of injury and like the Patriot Travel example above, many plans specifically exclude contact sports, even if they cover other sports. However, if you'll be participating in contact sports, make sure your insurance plan includes this. The Student Secure Budget and Select cover all organized sports, even if they are considered contact sports.
Recreational, Leisure, or Fitness Sports
Some sports don't fit into any of these categories. If you like to jog to keep fit, play tennis for fun on the weekends, or play catch with your friends, these types of sports activities fall into another category called Recreational, Leisure, or Fitness sports. These are activities people engage in during their free time, and are undertaken purely for recreation, leisure, or fitness purposes. They are therefore not considered organized, extreme, or contact, and are usually covered under the general medical benefits of an international student insurance plan or even a travel medical plan.
Not All Insurance Is Equal
Carefully consider your sports participation when shopping for an insurance plan. Using the guidance above, determine which categories of sport you'll be participating in and find an insurance policy that will protect you in case of any resulting injuries. Every insurance plan will specifically define which types of sports are included or excluded from that particular plan. Check the master policy to be sure that the sports you partake in are covered.
For help, feel free to email, chat or call our licensed insurance agents at any time.