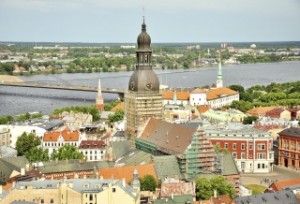 Summer time is here, and that means that many students will be grabbing their backpacks and making the journey across Europe. While most students venture to the big – and expensive cities – such as London, Paris, Prague, take the path less traveled and you might just surprise yourself (and spare your wallet!).
Here are 3 top hidden European travel destinations for students to enjoy:
1. Riga, Latvia
One of the secret treasures, Riga is the capital of Latvia, and has been influenced by the Germans and Russians due to centuries of occupation. This has characterized much of the architecture which has both Jugendstil and communist design. Not only will you have eye candy, but you'll find Riga a hip and vibrant place for students to explore and enjoy! With its youthful population, students can find bars, clubs, and cafes within walking distance.
2. Bucharest, Romania
Want a "little Paris" without the price tag? Bucharest may just be the perfect place for you! Bucharest is Romania's largest city and capital, with an abundance of things to do! With its Old Center, Parliament Palace, and not to mention – tons of museums, Bucharest will enchant you! With a prospering Jazz scene and abundance of parks, you will be fascinated by this multicultural city.
3. Valencia, Spain
A beautiful, charming old city, Valencia is located right on the Mediterranean Sea within 3-4 hours drive from Madrid and Barcelona. Are you a foodie? Did you know that Valencia is the birthplace of paella? If you go in March, there is the famous Fallas Festival. If you are looking for some time in the water, take your pick of the beach or hot springs, where you can just relax and enjoy yourself!
Have you traveled throughout Europe and have some hidden destinations of your own? Share it with us – we'd love to hear what secret town you found, and how to maximize your vacation without breaking the bank!