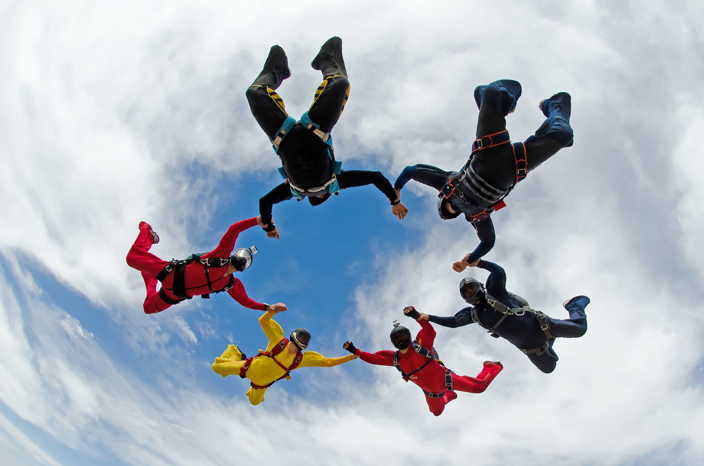 Do you enjoy the adrenaline of jumping from an airplane, with just a parachute attached to your back? What about the feeling of zip lining from tree to tree with the views of the jungle surrounding you? If you like to live life on the edge, then extreme sports are for you. Extreme sports are all about exhilaration, thrill, and the element of danger and are often a great activity to partake in while on vacation. With the excitement of planning your upcoming trip, you may not think about the importance of making sure you have health insurance in place that includes coverage for these high-risk activities.
What are Extreme Sports?

While there is not a set definition of what makes a sport extreme, these sports are typically described as high-risk, athletic activities that are perceived as dangerous and get your adrenaline pumping.
Activities like bungee jumping, skydiving, whitewater rafting and kayaking, cave diving, zip lining, and paragliding are all considered to be extreme sports.
These sports are a great way to push yourself out of your comfort zone and to try something that you may have never dreamed of doing! The most basic extreme sports are normally supervised by a professional and may not be considered as dangerous as some other extreme sports, so it's always important to remember your limitations and stick with what you're comfortable with.
Does My Health Insurance Cover Extreme Sports?

Generally speaking, most extreme sports are likely not covered under your standard travel insurance. For the daredevils out there, you'll want to make sure that you purchase a health insurance plan that includes coverage for these types of activities so you're protected in case of an unexpected accident or injury. But how can you tell if your health insurance plan will cover these activities? Before purchasing a plan, you should review the policy information to confirm the coverage details or contact the company directly to discuss the benefits and find out what your options are. If you already have a plan but are not sure what's included, it's best to call the number on the back of your insurance ID card to verify your benefits before you leave for your trip.
What are My Insurance Options?

Here at International Student Insurance, we offer two great plan options that allow you to add additional coverage for select adventure sports.

The Patriot Plan is a travel medical plan that allows you to add an optional add-on rider to cover you while you are traveling anywhere outside of your Country of Residence. This is a great option for short term coverage while on vacation when you know you'll want to experience the thrill of extreme sports.

The Student Health Advantage plan is a great option for students who are traveling outside of your Country of Residence. The plan allows you to add an optional add-on rider to cover select adventure sports and would be a great option if you are a full-time student and know you may want to participate in different extreme sports during your time abroad.

Before you embark on your next adventure, make sure that you have a health insurance plan in place to cover you for the unexpected. If you need help choosing the best option for you or have any questions about what adventure sports are covered under our plans, please contact our friendly customer service representatives.