We are always continuing to strive to bring the very best international student insurance plans, with benefits and pricing to match the needs of international students from all around the world. While the plans and benefits are extremely important – we also want to make it easy for our clients to manage their plans once they have purchased.
The Student Zone has been an excellent resource for all our current clients, as it allows them to manage their plan online – and offers the ability to renew coverage online, download replacement documents, search for providers, initiate pre-certification, amongst of wealth of other things. To continue this improvement, we have two new Student Zone features that have just been added and made available:
Online Claims Tracking through MESA
Online Claim Form Submission
MESA – Online Claims Tracking
Traditionally when a claim is processed, you will receive an Explanation of Benefits (EOB) in the mail that outlines how your claim was processed. This process can typically take up to 7 days for the EOB to arrive, as you need to wait for the document to be printed and then physically mailed to you.
However, with the launch of MESA you can now receive and obtain all your EOB's online through your own, secure account. The process to get setup is quick, and the short introduction below will help guide you through the steps:
Once you are ready, head over to our special MESA page which will give you further information and access to the system:
http://www.internationalstudentinsurance.com/mesa/
Online Claim Form
Another great addition that we have also recently added to the Student Zone is the ability to submit a claim form online. We recommend that for each new injury or illness, you always submit a claim form to the claims team to speed along the processing. It may not be needed in every case, but it helps to have the form on file if the claims examiner needs it for any reason.
In the past, you would have needed to print a claim form off, complete it, and then either scan and email, or mail the document. With the addition of the online claim form, you can simply log into your account and submit the form right online. It takes no more than 5 to 10 minutes – and your done!
To access this, please log into your Student Zone account and then click on "Claim Information" and then "Claim Forms" – from there you will see the following screen: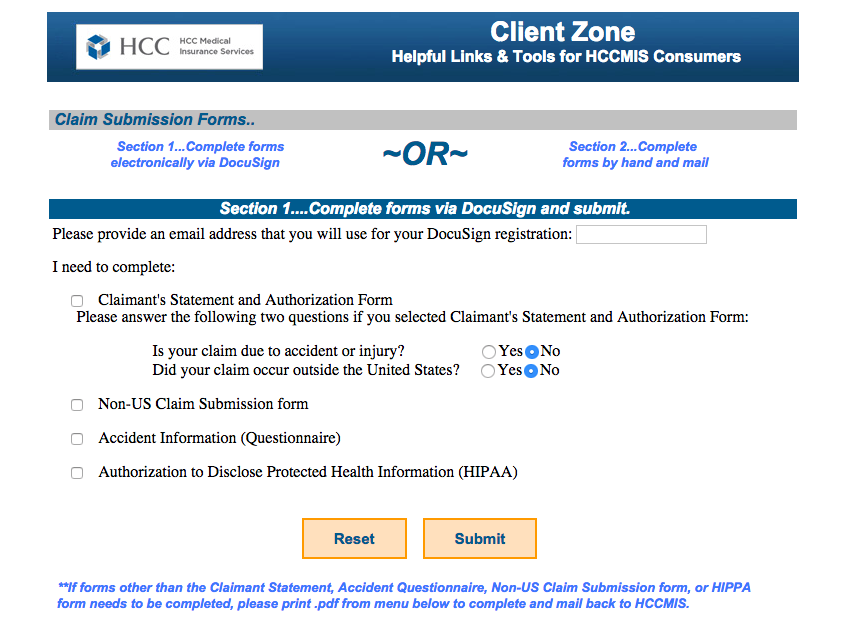 You will be able to start the online claim form process, and that will be submitted directly to the claims team for processing!
Student Zone
All these features and more are available in your student zone, to access that please visit:
http://www.internationalstudentinsurance.com/student-zone/
If you have any questions, or need assistance setting up any of our accounts – please contact our customer support team who will be happy to help you.