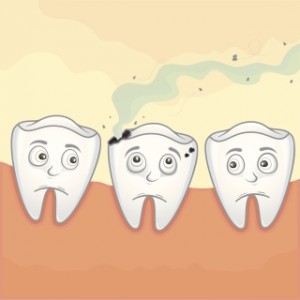 You never realize how much dental pain can keep you from talking, eating or sleeping until it strikes. If you have a sudden tooth ache and aren't able to visit the dentist right away- these home remedies to deal with dental pain are a great temporary fix. However, be conscious of any allergies you have when trying these home remedies and know that not all toothaches are created equal- this means not every remedy will work for every toothache.
Mix one table spoon of salt with a glass of warm water and swish.
Pour a small amount of hydrogen peroxide in your mouth and swish.
Mash a garlic clove and hold it on the toothache.
Make a cup of tea using a teabag. Take the used teabag and place it on the dental pain. Black tea or peppermint usually works best for this.
Wet a cotton ball or cotton swab with water and roll it in baking soda. Apply the cotton to the tooth ache.
Mix a table spoon of baking soda with a small glass of water and swish.
Dip a cotton swab in vanilla extract, then hold it on the toothache.
Take one clove and hold it in place against the toothache.
Keep in mind that these remedies are not meant to replace the care of a doctor or dentist. If you have a toothache, pain is typically a sign of something you need to have examined.
Before pain strikes, make sure you know the ins and outs of dental insurance and what you can expect to pay if you need to visit the dentist. If it's too late, make sure you get the information you need before your next dental emergency. You can learn more on dental insurance here.