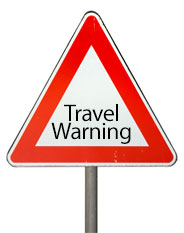 The July 2013 travel warnings are a listing of any warnings that have been posted by the US Department of State in the month of June, warning travelers who plan to visit those countries. Remember to exercise extra care if you are visiting these countries, and check with your travel insurance provider to make sure you still have coverage in place – sometimes coverage can be excluded to countries that are under a travel warning.
Countries listed through the month of June 2013 include:
Egypt – 28th June 2013

Due to the continuing political and social unrest, the State Department advises that all non-essential travel to Egypt should be postponed until the situation improves. Political unrest, which intensified prior to the constitutional referendum in December 2012 and the anniversary in 2013 of Egypt's 25th January Revolution, is likely to continue in the near future due to unrest focused on the first anniversary of the President's assumption of office.

Somalia – 21st June 2013

The State Department continues to warn against all travel to Somalia as the security situation inside Somalia remains unstable and dangerous. Terrorist operatives and armed groups in Somalia have demonstrated their intent to attack the Somali authorities, African Union Mission in Somalia (AMISOM), and other non-military targets. Kidnapping, bombings, murder, illegal roadblocks, banditry, and other violent incidents and threats to U.S. citizens and other foreigners can occur in any region.

Israel, the West Bank and Gaza – 19th June 2013

The security environment remains complex in Israel and the West Bank, and travelers need to be aware of the continuing risks in these areas, such as the Gaza Strip. Furthermore, with the exception of Jericho and Bethlehem, personal travel to the West Bank by U.S. government employees is prohibited.

Honduras – 17th June 2013

Travelers are warned against travel to Honduras, a country that has the highest murder rate in the world. Tens of thousands of U.S. citizens visit Honduras each year for study, tourism, business, and volunteer work without incident. However, crime and violence are serious problems throughout the country and the Government of Honduras lacks sufficient resources to address these issues. These threats have increased substantially over the past several years and remain high. Incidents can occur anywhere.

Niger – 14th June 2013

The Department of State warns of the risks of travel to Niger, and recommends caution due to ongoing electricity, water shortages and recent terrorist attacks that took place on the 23rd May 2013. The entire river region including the cities of Niamey, Dosso, and Tillaberry is currently experiencing electricity shortages because of damage to a major power line that provides over half of Niger's electricity, and difficulties with producing and transmitting electricity in Niamey. In addition, as a consequence of the electricity shortage, the Niamey water supplier has been struggling to supply water to the city.

Chad – 11th June 2013

The State Department warns of the risk of travel to Chad, and in particular the Eastern region of Chad and border regions. The security situation in Chad has slowly but steadily improved since the conclusion of an effective peace agreement between Sudan and Chad in early 2010. You should note, however, that despite recent stability, the security environment has been historically volatile and could still deteriorate unexpectedly.

Libya – 7th June 2013

As we reported in our June 2013 Travel Warnings post, on May 8, 2013, the Department of State ordered the departure of a limited number of U.S. government personnel from Libya following the seizure of Libyan government buildings in Tripoli by armed groups in a dispute over a law regarding officials of the former regime. Since that time, tensions have eased, and therefore; as of June 6, the U.S. Embassy in Libya is no longer on ordered departure status but remains an unaccompanied post due to security concerns. The situation in Libya still remains unpredictable, and thus travel is not advised to this part of the world.

Nigeria – 3rd June 2013

The State Department warns of the risks of travel to Nigeria and recommends the avoidance of all travel to Adamawa, Borno, and Yobe states because of the proclamation on May 14, 2013, by the government of the Federal Republic of Nigeria of States of Emergency in those three states. The Department also continues to recommend against all but essential travel to the following states due to the risk of kidnappings, robberies, and other armed attacks: Abia, Akwa Ibom, Bauchi, Bayelsa, Delta, Edo, Gombe, Imo, Jigawa, Kaduna, Kano, Katsina, Kebbi, Niger, Plateau, Rivers, Sokoto, and Zamfara.
While traveling, please keep these June 2013 travel warnings in mind. Additionally, travelers are advised to enroll through the U.S. Department of State's Smart Traveler Enrollment Program (STEP) to stay up to date on travel security information.