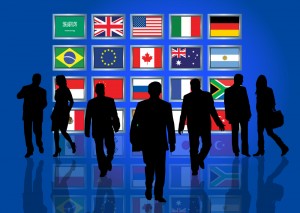 The year is almost to an end and the latest "Open Doors" report from the Institute of International Education(IIE) is in. The number of international students enrolling in colleges and universities within the United States continues to rise, this year brought 764,495 total, a 5.7 percent increase from last year, and a new record high. The trend of the leading country of origin continues to be China, giving Chinese students this title for the sixth consecutive year. Following in the lead is India, South Korea, Saudi Arabia and Canada.
Where were these students headed? The top five states to host international students this past year were California (102,789), New York (82,436), Texas (61,511), Massachusetts (41,258) and Illinois (35,920). A few of the top US schools to host international students were the University of Southern California (9,269), the University of Illinois – Urbana – Champaign (8,997), New York University (8,660), Purdue University-Main Campus (8,563) and Columbia University (8,024).
Almost a quarter of the international students in the US studied business and management (166,733). The second most popular field of study was engineering (141,285) followed by math and computer science (71,364).
Of course the "Open Doors" report does not only track international students in the US. The number of US students studying abroad is also recorded and has recently increased by 1.3 percent. The latest results show that there were 273,996 US students who studied abroad for academic credit, the majority (58.1%) being short-term. A few of the top destination countries were the United Kingdom, Italy, Spain, France and China.
IIE has conducted research on international student trends both in and out of the US since 1919, in 1954 these findings became known as the "Open Doors" report.
International Business photo courtesy of Shutterstock