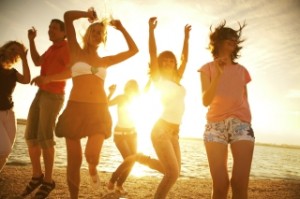 Spring break is a time to sit back, relax and leave the stress of school behind for a few days. Many international students choose to take advantage of this break by taking a vacation to either another state (perhaps through a road trip) or to a new, neighboring country. While spring break is a time to "let your hair down" and enjoy not having tests, essays or 8am classes- it's still important to keep your fun safe. Here are the top 5 tips for a safe spring break:
Plan Ahead: Nothing spells trouble more than not having an agenda. If you are spending your spring break in a breakers "hot-spot" like Panama City, Cancun, South Padre Island or Cabo- make sure you book your hotel well in advance. Hotels typically run out of vacancy fairly quick during spring break season which means you could be stuck sleeping in your car or on the beach- both of which won't leave you with a great spring break experience.
Use Your Head: And we mean for more than showing off your head-stand skills on the beach. If a situation seems too good to be true, it more than likely is. Relax and have fun, but don't get carried away. To ensure you can always use your best judgment, avoid heavy drinking.
Watch Your Drink: If you will be heading to a party or a club, it's important to watch your drink whether you are drinking soda or beer. It only takes a couple of seconds for someone to slip something in your drink that you didn't ask the bartender for. If you must set down your drink and walk away, ask a friend to watch it for you, or simply buy a new one
Friends Forever: Friends are great, aren't they? Not only do they provide you with a shoulder to cry on, someone to laugh with and a swimsuit on spring break when you've forgotten yours, but they also help you stay safe! Use the buddy system and never venture off alone, especially at night.
Swim Safe: Make sure to use general swimming safety while on spring break. Don't dive into shallow pools, never swim at night, after you've been drinking or alone and if you're swimming in the ocean be aware of how tall the waves actually are. While they may seem small and gentle from shore, they are typically taller and much more powerful once in the water.
Using these top 5 tips for a safe spring break will help ensure you have safe, yet fun time on your break!