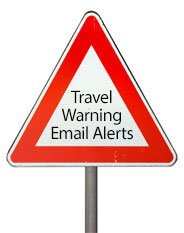 Each month, as a resource to the international student and international education community, we report on the changes to the US State Department Travel Warning list that occurred in the previous month through our blog. This quick overview summary at the beginning of each month keeps you up-to-date with the latest changes, without bogging you down in having multiple emails or notifications each time there is a change to the list – and it removes the need to have to visit the US Department of State Website each time you want to know about the very latest updates.
The updates we post monthly can be found by visiting our category page at:
/blog/category/travel-warnings
Like any blog, we offer a convenient RSS and Email Feed option (which you can find in the sidebar to the right of this post), allowing you to receive updates on all our posts as we put them online. However, with a neat little tool/ website call IFTTT you can now receive just our travel warning summary emails on a monthly basis. IFTTT stands for IF This Then That, and if you have never heard of it before its excellent at helping you organize things and notify you of changes.
In this example, to get our monthly travel warning summary emails simply:
Sign up for a free Account at IFTTT
Use our IFTTT Email Recipe we created for our travel warning summary emails
That is it!
Now each month as we post our summary email, IFTTT will email you a copy – a quick and easy way to receive our monthly travel warning email alert! You can even go as far to modify the recipe further if you wish and it can post to Facebook, or Twitter.
If you have any questions let us know, but hopefully you find this very useful!