As the world faces the
Coronavirus (COVID-19) pandemic
, it's important to embrace healthy habits to help maintain your overall well-being. If you are an international student in the US or if you have returned home, here are some tips and tricks to get through this uncertain time.
Common Terms Defined During COVID-19 Outbreak
What is Social Distancing?
Social distancing is a way to keep people from interacting closely or frequently enough to spread the virus.
What is Quarantine?
Quarantine separates and restricts the movement of people who may have been exposed to a virus to see if they become sick.
What Is Isolation?
Isolation prevents the spread of an infectious disease by separating people who are sick from those who are not.
Everyone handles stress differently during these uncertain times. It is common for many people to isolate, quarantine or social distance themselves from others and it may make you feel:
Anxious
Fearful
Concerned
Resentful
Uncertain
Frustrated
Depressed
Insecure
Stressed
Connect with Others
With isolation, come feelings of loneliness. Stay social and make the most out of technology! Scientists have found that isolation is damaging not only to our mental health, but to our physical health as well - yes, that includes our immune systems too! Thankfully, technology allows us to easily connect with friends, family, peers and colleagues. In addition to our standard texting, emails and old fashion phone calls, here are some common platforms to keep in touch:
Every
hand that we don't shake must become a phone call that we place. Every embrace that we avoid must become a verbal expression of warmth and
concern.
—
Rabbi Yosef Kanefsky
Get Help
Take a mental inventory on how you are feeling. Take some deep breaths and remind yourself what is true in this moment. Be present, and in the moment.
"In this moment, your heart is beating. You're breathing in this moment. No saber-tooth tiger is coming after you in this moment." - said Dr. Hanson, Creator of Simple Habit who reminds us of what we can say to our inner selves to help us think about what's true right now.
Look out for signs of distress, symptoms may include:
Fear and worry about your own health
Changes in sleep or eating patterns
Difficulty sleeping or concentrating
Worsening of chronic health problems
Increased use of alcohol, tobacco, or other drugs
Call your doctor or other health care provider if you are experiencing these symptoms, or if you have been depressed or anxious for 2+ weeks.
---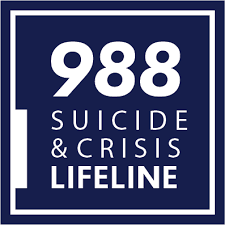 988 Suicide & Crisis Lifeline