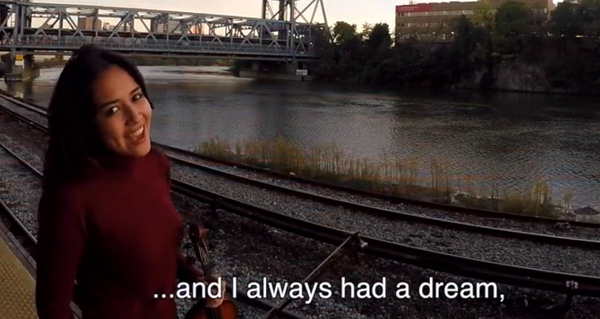 The votes are in and it's about time that you find out who wins, right? Grab a bag of popcorn and find a comfy chair, because we are now announcing the 2016 Travel Video Contest winners!
After spending nearly 1,000 hours watching video after video submission, the InternationalStudent.com team and panel of judges have finally decided who goes home with the cash.
To save you some time, we've prepared a snapshot of the overall contest winners, but don't forget to give the other entries and finalists a glance too. You can view all the submissions to this year's contest here.
A huge round of applause is owed to the grand prize winner of the 2016 Travel Video Contest, Mariana Osorio, for her submission, "This Magic World." As a student growing up in one of Mexico's poorest states, she tells an inspiring story of her life through song – and an original song at that! If you are going to watch any of this year's video submissions, be sure to check out this songbird. Perhaps best of all, in addition to being $4,000 richer, Mariana is going to be a regular blogger on the InternationalStudent.com, so we can periodically check in on her travels through the Study in the USA blog.
Needing a bit of inspiration in your life? This year's second place video is called "Dream, Believe, and Make It Happen!" and is sure to motivate you! Siti Fatimah of Indonesia spent much of her childhood as an orphan, and her story is all about overcoming impossible odds to achieve her dream of studying abroad and eventually becoming a professional obstetrician. We're wishing Siti the best of luck and congratulations on earning a $500 prize!
Rounding out the top three finalists is a black and white submission called "The Urban Archi," by Michael de Beer. Fueled by crime and discrimination in his South African city, Michael knew from an early age that he wanted to become an architect and eventually help his city gradually urbanize. His thoughtful submission has earned him a $250 prize.
And last, but certainly not least, this year's Viewers' Choice winner! Chosen by popular vote, this year's recipient is "A Couple of MBAA's" by Carlos Roberto Gonzalez Meyer. If you are in the mood for a good laugh, be sure to watch Carlos and his girlfriend act out their past and future travel plans in the video that earned them a whopping $1,000 prize.
We're sending a huge shout out to everyone who submitted a video entry. The competition was tough, but the contest will be back next year! Start your preparations by checking out each of the winning video entries from the 2016 contest and keep those cameras recording.