Healthcare in Finland
Quality and Level of Healthcare in Finland
Healthcare in Finland, and the level and quality of care, is an important factor for all international students. With Finland, you the good news is you have a healthcare system that is very strong, and offers excellent quality services for international students weho are looking into studying abroad.
Overview of the Healthcare System
The healthcare system in Finland is purely funded by the public through tax dollars. However, there are certain situations in which some user fees must be paid to doctors. The health care in Finland is implemented by local government rather than from the federal level, so the precise specifications of the system will depend on the territory in which a student is studying. The nation has universal health care so all Finnish residents have access to quality care. In addition, the nation is revolutionary in that it is focused on preventing disease rather than treating it. For these reasons, Finland is seen as one of the healthiest countries in the world.
Because of this, the residents of Finland have shown to be very satisfied with their system. The life expectancy in Finland ranks as some of the best in the world, and its infant mortality rate is also ranked high.
Finland
Birth Rate
10.36 births/1,000 population
Death Rate
10.42 deaths/1,000 population
Infant Mortality Rate
Overall: 3.38 deaths/1,000 live births
Male: 3.68 deaths/1,000 live births
Female: 3.07 deaths/1,000 live births
Life Expectancy at Birth
Total Population: 79.55 years
Male: 76.09 years
Female: 83.15 years
Health Expenditure
8.9% od GDP in 2011
It is also a leader in primary care, employing nearly 1,000 doctors giving medical treatment in Finland. The medical treatment in Finland is implemented by regional hospitals and local hospitals for residents and international students alike. Because most of the health care industry in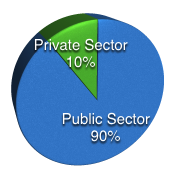 Finland is ran by the government within the public sector, there is very little private sector industry for healthcare. Because private sector healthcare is paid directly out of pocket, very few doctors work within the private sector as shown by the pie chart to the right.
Health Insurance in Finland
The health insurance in Finland is called NHI, or National Health Insurance. The NHI covers all Finnish residents. The insurance is monitored by the local government Social Security Institution (SSI). The institution covers all forms of family benefits, health insurance and unemployment benefits and medical treatment in Finland. In addition it covers the housing benefits and financial assistance for students. So really, almost every facet of insurance and finance is covered by the local SSI.
Prescription Drugs
Insurance also provides coverage for pharmaceutical drugs. The distribution of pharmaceuticals must come with a prescription, and can only be turned in at designated state run pharmacies throughout Finland. Pharmacies are completely run through the public sector.
Insurance for Residents and Non-Residents
Insurance is universal for all residents of Finland. Because it is universal, immigrants who live in Finland permanently are entitled to the same coverage. While coverage for residents and immigrants is defined, those for temporary people living within the country may be a bit different. In fact, international students who live in the European Union are also entitled to coverage in Finland. While many hospitals are completely free by law, others that require user fees may charge international students. Students with the European Health Insurance Card (EHIC) are given free treatment because of their status as EU residents, which include Finland. While a fee may be paid, in most situations students will be reimbursed.
Health Insurance for International Students
Did you know that over 21,000 foreign students pursue their degree in Finland each year?
International students should not worry about insurance and reasonable health care facilities in Finland. By taking the time to make sure you are covered under your current provider or an international insurance policy, students can be sure to avoid any unnecessary problems in the case of an emergency. International students studying in Finland will find that they are well taken care of in this great nation.