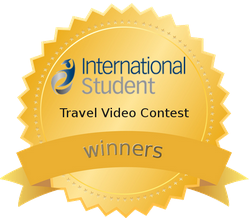 For the 15th year InternationalStudent.com has hosted their annual Travel Video Contest. This year, in light of Covid-19 the theme was altered, and students shared a glimpse of their international education pursuits during the pandemic. InternationalStudent.com was pleased to announce the TVC: Life After Lockdown winners on November 20th – the last day of International Education Week. If you missed the announcement of who walked away with a prize, you can get caught up here!
Viewers' Choice Winner ($1,000):
"Story of My Life" by Larissa Silveira
The Viewers' Choice Winner is determined by votes from visitors on InternationalStudent.com. This year visitors were able to choose their favorite video from the nearly 120 submitted entries around the world and chose "Story of My Life". Larissa not only received $1,000 for being a fan favorite, but she also received an automatic entry into the final round of the contest.
The contest winners were determined from the list of 10 finalists by the InternationalStudent.com judges panel. Congratulations to each of the winners!
Third Place Winner ($250):
"Dear 2021" by Julia De Camargo Correa
Julia shared her message to 2021, hoping that it brings with it the study abroad dream she has been preparing for in the Netherlands.
Second Place Winner ($500):
"The Home of an International Student" by Aashna Singh
Having to trade her studies in New York for isolation in North Carolina due to the pandemic, Aashna takes us on her journey of social distancing and online classes.
First Place Winner ($4,000):
"In the Light of Covid-19" by Fiqah Rahman
A passionate storyteller from Brunei and current student at NYU, Fiqah highlights the light she found during the pandemic- and how it has helped carry her through. Although her international journey hasn't been what she expected, she was able to find the positive in what has been a rocky road for many during the year.
If you would like to see what other international students and exchange participants have been up to and experiencing during the pandemic, check out some of the other 2020 TVC: Life After Lockdown entries!