ihi Bupa Annual Travel Insurance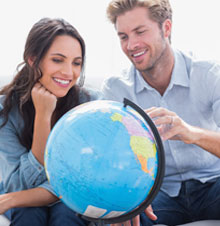 The ihi Bupa Annual Travel Insurance plan is an ideal solution for those who are looking for an annual travel insurance plan that will cover them for multiple trips abroad throughout the year. Under the Annual Travel plan, coverage is for one year and then you can travel as many times abroad with no trip to last longer than 30 days at any one time. There is also the option for single trip coverage if that is require - this can be found on the application online.
The plan is split into three modules, the base coverage which provides medical care when abroad, the non-medical options which provides non-medical travel related benefits and the trip cancellation module to cover cancellation of trips. The base module is compulsory, and then it is your choice to include the further modules
Highlights of the plan include:
Unlimited Coverage
Hospitalization / Doctors Visits
Prescription Medication
Evacuation / Repatriation
No deductibles / copays
Direct provider payments
Online Instant Application
Plan Management Online
Need your documents now? If you need your insurance documents quickly, you can buy coverage and receive all your insurance documents online and to your email address in PDF format immediately. Simply download and print these documents for instant proof of coverage.