International Student Insurance Newsletter
April 2021 | Issue #30
With the recent announcement by the US government of the extended eligibility for COVID-19 vaccines, our hope is that other countries are able to obtain and distribute the vaccine soon. If you are eligible and able to, we encourage you to get vaccinated! In the US, this announcement comes at the perfect time for graduation and summer. If you're staying in your host country, be sure to extend or renew your insurance policy. Even if you get vaccinated, it's important that you have an active insurance plan in case the unexpected happens while you're abroad.

If you will be graduating this May, we congratulate you! This past year, many of us had to switch to virtual learning or working for the first time so your efforts don't go unnoticed!

Yessica Prato, Customer Service Manager
for the ISI Team
Tokio Marine HCC now WorldTrips
Tokio Marine HCC, the insurance company for the Student Secure plan and the Atlas Travel plan, has changed it's name to WorldTrips as of April 15, 2021. There is nothing to do on your part, as all existing documents (including your ID card), email addresses and phone numbers will continue to work as normal but any new documents you receive will have the new logo.
Graduating in May? OPT Insurance
Summer is around the corner and for many of you, this means OPT time! If you are planning on applying for your OPT, make sure to have your insurance coverage in place. Our insurance experts Sally McLeod and Alexis Ponce discuss what insurance options are available to you during your OPT period in our Youtube channel.
Student Secure and Atlas Travel Updates for 2021-2022
Our most popular plans have been updated! Check out the latest updates for our Student Secure, Atlas Travel, Student Health Advantage, and Patriot Exchange plans:
COVID-19 Vaccine covered under the Elite level of the plan
Virtual physician visits included in the coverage
Emergency Quarantine Indemnity benefit
Virtual physician visits included in the coverage
Patriot Exchange and Student Health Advantage
Covers COVID-19 like any other new, eligible condition
Coverage for prescription medications up to $250,000
To get the best recommendation for your specific needs, you may contact our team or visit our website:
Talking to Your Doctor - Don't be Embarrassed!
Many of us tend to shy away from asking those important, but often embarrassing questions that are the most pressing when visiting your doctor.. However, you shouldn't be embarrassed! Doctors are trained professionals and their job is to listen to your symptoms and make you feel comfortable. Check out our latest blog on what questions you should be asking your doctor.
COVID Vaccinations
In the United States, President Biden has announced that every adult in the United States will be eligible to get the COVID-19 vaccination by April 19th, 2021. It's important to get vaccinated, as it is free and there are no restrictions due to immigration status. If you are not familiar with the different types of vaccinations offered currently, we give you an overview of each of them in our blog.
Team Profile: Ramez Stephan - Sales and Marketing Coordinator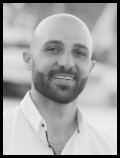 I am originally from Amman, Jordan, and have been living in Leipzig, Germany since 2015. I came to Germany to learn new perspectives on life and see how the world looks from this angle! Helping others brings me joy in life. I am also very passionate about Reiki Healing and exploring one's full potential. At ISI, I work with customers and organizations on a daily basis. I know how complicated insurance could be, especially if you are living in a new country where you have no idea how things work. I consult on insurance options in English and Arabic, and I make sure that the client gets the policy that fits them best.
Follow us on TikTok!
ISI has joined the world of TikTok! Follow us on TikTok at isi_insurance to see all of our amazing content on international student insurance as well as tips on staying safe and healthy abroad.