International Student Insurance Newsletter
December 2020 | Issue #29
We've done it! 2020 is coming to an end and, while our holidays might look a little different this year, we hope you and your loved ones are finding ways to connect and celebrate. Our team at ISI has been working behind the scenes to keep you updated with the latest information about international education, health, and insurance. As many of us have learned to manage new challenges, from studying virtually to working from home, check out our Facebook as ISI continues to emphasize the importance of your emotional wellness and provide expert advice to help you get through this pandemic.

Happy holidays to all!

Yessica Prato, Customer Service Manager
for the ISI Team
Insurance for the Spring Semester
With the new year approaching, it is time to put your plans into action! With that in mind, if you are preparing to study abroad or if you are already studying overseas, one of your priorities will likely be purchasing a health insurance plan. If this pandemic taught us something, it's to always expect the unexpected. If you're looking for insurance for your studies, compare our plans to help you select the best insurance plan for your needs.
Student Zone - Continue Your Coverage
If you are planning on staying in your host country during the holiday season and jumping right into the Spring semester, remember to maintain your current health insurance so there are no gaps in coverage. You can extend or renew your current plan before it expires right online in the Student Zone.
Agents, Carrier, Network - Who are they?
There is no doubt that the healthcare industry is very complex and when it comes to insurance, it can be overwhelming to understand who you should contact in different situations. In our latest blog, we explain the different players involved in your insurance plan and what each of their jobs entail. From understanding the differences between your trusted agents (hint: that's us!) and the insurance carrier to learning how to use your plan's network, check out our blog.
Holiday Video Contest
This year we are inviting students to participate in our Holiday Video Contest for a chance to win a $25 gift card. This contest asks students to send a video to our Facebook page, one minute or less, about their holiday traditions, memories, recipes, and more! This year we look forward to spreading the holiday spirit with students all around the world.

The contest will remain open until Sunday, January 3rd, 2021 at 12am EST and a winner will be announced the following week. For more information on the Holiday Video Contest, check out our blog.

Have any questions? Message us on Facebook or Instagram and we will get back to you!

Staying Happy Over the Holidays!
As this year comes to a close, many international students are still physically separated from their families and loved ones, and will be celebrating the holidays differently than in years past. Watch our recent video with Ashley Machado, Associate Director for International Programs at Saint Mary's College, as she discusses how her students are staying connected with friends and family.
Team Profile: Alexis Ponce, Marketing Coordinator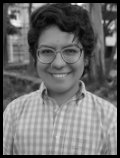 I was born in Mérida, Yucatán in the south of Mexico but moved to Mexico City three years ago to expand my horizons and build a career. I have a degree in Visual Arts, in which I mainly focused on photography and performance art, however, I've always had an interest in languages and wanted a job where I could apply those skills. I have worked for ISI for almost 3 years now and during this time, I have assisted many international students in both my mother language, Spanish, as well as English. I love talking to people from all over the world and all of the things that I've learned about our background differences!
Have you Heard?
We've reached over 150 reviews on Trustpilot thanks to our wonderful clients! Our team is constantly striving to provide excellent service to our customers and your feedback is of the utmost importance to ISI. To see for yourself, check out our 5-star Trustpilot profile!